Oral Surgery near Dallas, TX
---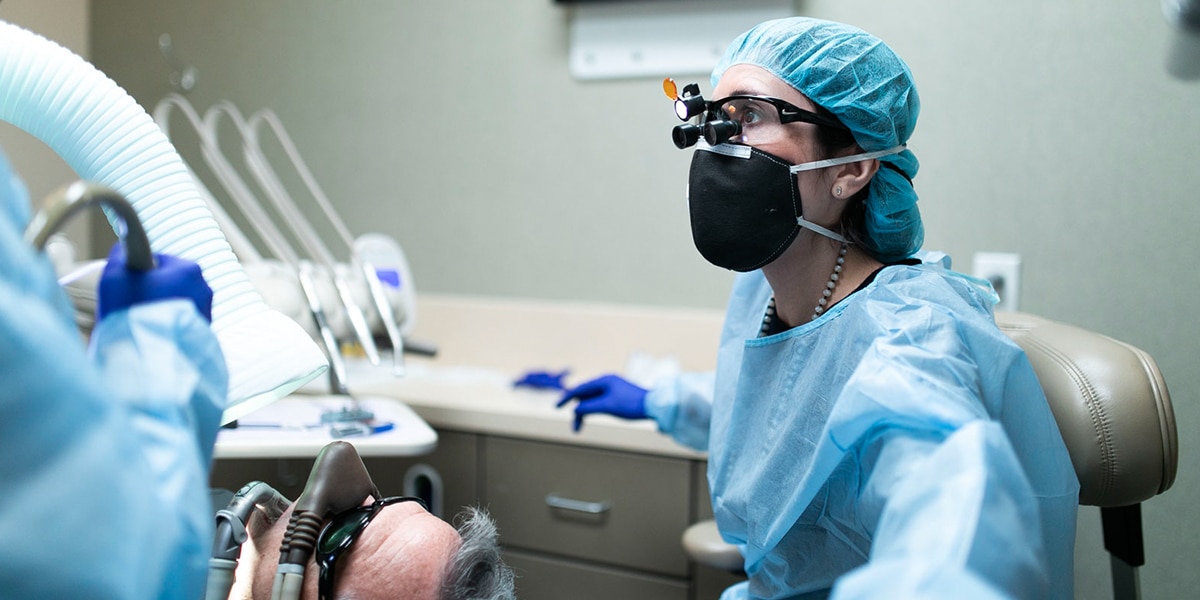 ---
TMJ Plus Wellness Center performs a range of oral surgery procedures in Grapevine, TX. We treat patients from throughout the greater Dallas area. Call us at 817-481-6888 to schedule an appointment.
---
How do oral surgery and holistic dentistry complement each other?
---
We perform oral surgery that utilizes a holistic approach to the preparation and execution of the surgery, as well as the patient's recovery. At TMJ Plus Wellness Center, we take a different approach to these procedures, seeking to ensure maximum health by avoiding harmful materials and executing the most healthy procedure possible.
During these procedures, our team utilizes laser dentistry to greatly reduce or eliminate any discomfort or bleeding and to reduce healing time. Ozone water platelet rich plasma treatments also offer patients faster healing and less discomfort.
---
What kind of oral surgery procedures do you perform?
---
Cavitational Surgery

In addition to being a holistic alternative for traditional root canal treatment, Cavitational surgery can involve removal of material that may have been left behind after a previous surgery such as wisdom teeth removal or other dental treatment that leaves holes in the bone.


---

Learn more about Cavitational Surgery

Dental Extractions

A tooth that can not be saved with restorative procedures may need to be removed. When removing teeth, we make sure to remove the ligament as well as the tooth. We, rinse your mouth with ozone-treated water, fill in the void with bone grafting, and cover the socket with your own platelet-rich plasma, which creates an instant gum barrier and prevents further infection and dry socket.


---

Ceramic Dental Implants

In addition to keeping your body metal-free, ceramic implants do not attract bacteria into the gums, have a much lower risk for gum tissue disease, and don't conduct metal or heat energy.


---

Learn more about Ceramic Dental Implants
Safe Removal of Mercury Fillings

Mercury SAFE means that when mercury amalgam fillings are removed, we do so in a way that protects the environment, air, patient and team. When removing mercury, we follow the safety protocols of IAOMT, the International Academy of Oral Medicine and Toxicology.


---

These protocols include:

Isolating teeth to be worked on so mercury does not touch other tissues.

Using air filters to keep the air quality clean and an extra HEPA filter and vacuum system for the process.

We rinse with Chorella to remove any traces of mercury

Our team will work with your referring doctor or our health coach to create your customized plan of detox protocols for both before and after the procedure to cleanse your body of any trace amounts of HG. The body must be prepared to detox the stored metals that have been stored for years. Some examples of the protocols:

Correct homeopathic remedies

Proper Nutrition

Supplements to trigger the body's healing mechanisms.

Using ozone treated water throughout the procedure and also prior to placement of a new restoration.

---

Learn More about Ozone Therapy
---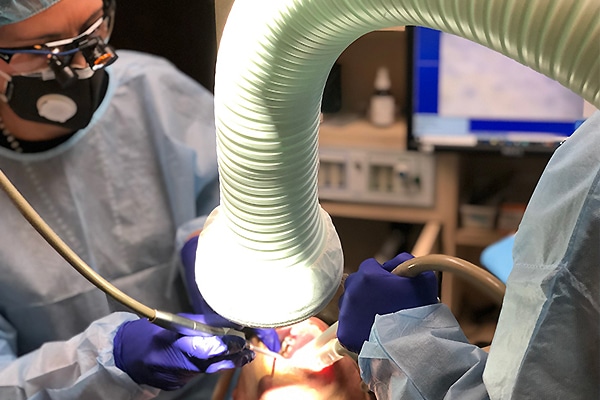 Image of a Safe Mercury Removal Surgery. We remove mercury amalgam fillings and do so in a way that protects the patient, dental team, and environment.
---
---
Tina's Testimonial: Chronic Pain, Holistic Dental Care and Lymphatics connected to Teeth Infection
---
---
Barb's Testimonial: Dental Extraction and Relief of Neck Pain
---